2Thynk, LLC
2Thynk, LLC was formed over a dozen years ago with a focus of providing management and learning tools available for mobile devices and the internet.
The early tools designed by 2Thynk's team included several planning, meeting and decision-making tools available on Palm devices. Today's technologies have advanced to allow video support for mobile devices and this is most certainly evident in the extensive video collections on YouTube, Yahoo, Google and many other web services.
2Thynk's development focus today is bringing business planning tools and support services to small and medium-sized businesses, which will support their growth and success.
GO!
The GO! Process and tool have been developed from years of working with organizations on strategic planning and executive team development. The tools are designed to be easy to use and provide exceptional clarity for the steps in the planning process.
The set of GO! Tools and the GO! Process will continue to expand with the experience of its users and the development of technologies and platforms.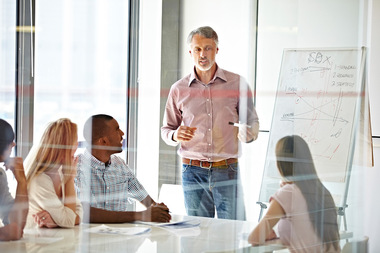 Founder
Tom Buck is a business consultant with experience in large and small businesses and in governmental entities. He has lead large-scale organizational change projects with numerous organizations including Ford Motor Company, Amoco Production Company, the U.S. Postal Service, Rubbermaid and the Canadian Pacific Rail System.
He is an entrepreneur and has founded over a dozen corporations over the past two and half decades. He was formerly the President and Founder of Prism Performance Systems, Inc. Today, he and his partners are building a business which provides ERP software and equipment lease funding to machine tool shops across North America. Tom is a business coach to several CEO's in southeast Michigan.
Tom just concluded two terms of volunteer service as Mayor of the City of Farmington, Michigan, and he served on Farmington's City Council for eight years. This has been an outstanding experience in public policy at the local level with significant interaction at the state level. He is a Past Chapter Chair of the Young Presidents Organization, Greater Detroit Chapter. Tom also has served as a Group Chair for Vistage in Southeast Michigan.
Tom also served in several offices in the the Detroit Chapter of the American Society of Training and Development, including as its President.
He has authored over a dozen articles on organization improvement topics, published in various industry and local magazines and newsletters. He is a co-author of the book 101 Ways to Power Up Your Job Search, published by McGraw-Hill. Tom has an MBA from Wayne State University and a BA from the University of Michigan.
Team Members and Advisors
Murray Sittsamer, friend, advisor and business partner. Murray is founder of The Luminous Group, which specializes in training and consulting in manufacturing process improvement and certifications.
Gary Gabel, friend, advisor and business partner. Gary is founder of several organizations, including HR Strategies and Infinite Learning. Today he is sponsoring the development of the Eat To Win series of tools and games to provoke healthy habits.
Karen Buck, wife, partner, advisor. Karen is engaged in many of the businesses Tom operates and her touch and heart are felt throughout them.
Andrew Buck, son, partner, advisor. Andrew is the producer and director of most of the media provided by 2Thynk. His great sense of communications influences the best of 2Thynk's work.